Greetings
Prof. Dr. Hirofumi Chikatsu
President, Japan Society of Photogrammetry and Remote Sensing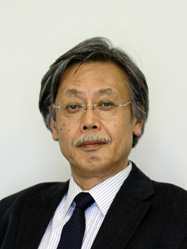 Welcome to the Japan Society of photogrammetry and Remote Sensing (JSPRS). JSPRS has been established in 1962 with the objective to promote three dimensional measurement using photogrammetry.
In these fifty years JSPRS has expanded her activities from analytical photogrammetry to digital photogrammetry, space remote sensing, laser scanning, GNSS, GIS and other geo-spatial technologies under the key words digital data. Geo-spatial data consist of image data has ability to produce animations, simulations and virtual surroundings as a 3D visualization.
Therefore, the application areas of JSPRS also have enlarged to topography, geology, geography, civil engineering, agriculture, forestry, disaster management, snow and ice, industrial meteorology, cultural properties, 3D visualization and so on
JSPRS recognizes that digital photogrammetric technologies as listed above will be a key technology to promote a geo-spatial society where anybody, anytime and anywhere geo-spatial data and information would be available.
In 2012, JSPRS celebrated the golden jubilee. The JSPRS are going to more develop in the next fifty years as an attractive association for young generations with maintaining tradition.
On behalf of JSPRS, I would like to invite you to participate in the activities of JSPRS. I also invite you to become a member of JSPRS if you have not yet joined as a member. JSPRS is always friendly and active with a mixture of young and senior generations as well as private, academic and governmental sectors. I really wish all of you positive participation in JSPRS's activities.
President, Japan Society of Photogrammetry and Remote Sensing

Japan Society of Photogrammetry and Remote Sensing
Photogrammetry and Remote Sensing is the art, science, and technology of obtaining reliable information from noncontact imaging and other sensor systems about the Earth and its environment, and other physical objects and processes through recording, measuring, analyzing and representation.
The Japan Society of Photogrammetry and Remote Sensing is a non-governmental organization devoted to the development of cooperation for the advancement of photogrammetry and remote sensing and their applications.
The Society's scientific interests include photogrammetry, remote sensing, spatial information systems and related disciplines, as well as applications in cartography, geodesy, surveying, natural, Earth and engineering sciences, and environmental monitoring and protection. Further applications include industrial design and manufacturing, architecture and monument preservation, medicine and others.
JSPRS has been an Ordinary Member of the International Society for Photogrammetry and Remote Sensing (ISPRS) since 1964, and an Ordinary Member of the Asian Association on Remote Sensing (AARS) since 1981.
Number of Members
Ordinary member and Student member: approx. 1,200 Sustaining member: approx. 100
Journal & Publications
Journal of the Japan Society of Photogrammetry and Remote Sensing is published six times a year. Books, proceedings, and computer program published by JSPRS are available.
Conferences
The JSPRS Annual Conference is held in the Tokyo area in June, and the JSPRS Fall Conference is held in a local area in October.
Awards
JSPRS conducts an awards program each year: JSPRS Special Award, JSPRS Soceity Award, JSPRS Encouragement Award,ISPRS Encouragement Award.
Contact
PARK COURT BUNKYO KOISHIKAWA THE TOWER 5F, Koishikawa 1-5-1, Bunkyou-ku, Tokyo 112-0002, Japan.
Tel: +81-3-5840-6606, Fax: +81-3-5840-6616
e-mail:
office-jsprs@jsprs.jp
Website: http://www.jsprs.jp/